(Last Updated On: August 3, 2021)
The different Fats and their effects on our Bodies
In our modern world, many people have a problem with digesting fat. This is especially true when people have had their gallbladder removed. Why is it that this type of operation is so often performed to start with?
One big reason lies in the way we are eating. Our diets are too high in sugar and processed carbohydrates and that can harm us as it makes us have insulin resistance.
To support a healthy digestive activity it might be a good idea to take a supplement that includes an enzyme with a combination of Ox Bile, Amylase, Protease, and Lipase so your gallbladder can function well and is also good for optimal fat and lipid utilization. We should take this type of supplement before each meal.
This is a brilliant book on the different fats
Dr. Mercola, you probably know him as the bestseller author of The No Grain Diet, highly recommends this book.
Saturated fats like coconut oil, red meat from grass-fed cows, and butter are important to weight loss and health. Let us undo the myth that dietary fat is bad for you. The only thing is you have to choose the right type of fat.
In the book, you will find three programs to help you on the way to a healthier you. Plus, you will get some yummy coconut recipes thrown in for good measure.
.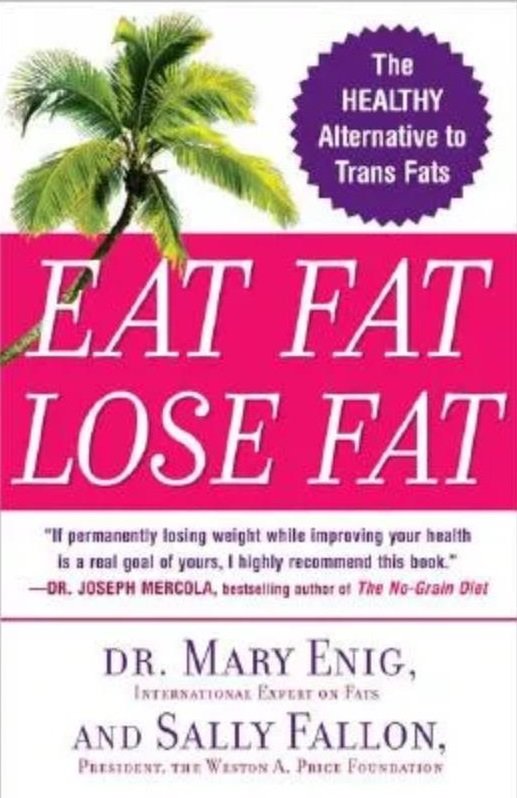 .
The different Fats we eat
It is important to check which type of fat we have in our diets. Do not eat refined cooking oils like corn or soy. Fried foods and also margarine are to be avoided. These types of fats are dangerous to your health as they are trans fats because they create inflammation and are linked to heart disease.
You will find healthy oil in avocados, you can eat one a day if you like, extra virgin olive oil, unrefined coconut oil, olives, seeds and nuts, and butter from grass-fed cows and their meat.
.
Coconut oil is Healthy
I would like to go more in-depth on Coconut oil. The reason being that the information out there is contradictory and like that is confusing the people. When there appears an article in the USA Today with the headline, Coconut Oil is not Healthy. It has never been Healthy.
What would you think? Probably you would think I better steer clear of this oil. This is wrong as there is not 1 single study that shows that coconut oil causes heart disease.
The American Heart Association (AHA) has still not acknowledged this fact.
When reviewing this good video, it shocked me. At minute 4.55, I see Fake News on the screen. I will keep this video on my post because I stand behind what this doctor explains. This is censorship and I am not surprised my website is doing so badly after 4 and a half years.
Because of all this censorship, I started a new website in May 2020. Please have a look. The silenced voices.
It will still take a while until we come to recognize that a low-fat diet does not save us from heart disease. It is the opposite. A low-fat diet can significantly contribute to heart disease. The AHA has been broadcasting that "fat is bad and will kill you" How wrong they are.
We were told to eat a low-fat, low-cholesterol diet and eat lots of starchy carbs. AHA gets a lot of money from cereal makers. It is argued that cereals are fat-free but often hold up to over 70% in sugar. So you can imagine that eating cereals is bad for you, period.
The people in the South Pacific have used coconut oil for thousands of years with no ill effect.
It has quite some health benefits like raising your HDL, the good cholesterol.
People from those cultures who have a high intake of this oil, sometimes like 60% of their diets, have no heart disease. Coconut oil is also antifungal and anti-microbial and it contains lauric acid, which is a great help for your immune function.
Our Personal Responsibility
We are responsible for our own health, that is why we have to be informed well about the different options we have. The AHA has invented the "heart-healthy" label so when you go shopping you can easily find these "healthy" foods. Most of the time you end up buying something low in fat and high in sugar.
The AHA is against healthy fats and promotes fats like canola oil, for sure an oil to be completely avoided. One should ask who sponsors the AHA and then come to one's own conclusion. I take a couple of spoons of coconut oil a day. On my breakfast toast, I put extra virgin olive oil. I think I am rather doing well for my 71 years of age.
Dr. Mark Hyman has written extensively on Healthy Fats. He is a well-known and respected doctor.
He has written many books. You might care to look at this one, "Eat Fat, Get Thin Cookbook".
Before you leave, you might like to have a look at Recommendations. It is a page I made for you with things I find interesting. I hope you will find something of your interest too.
Source: NaturalHealth365
Photo Source: Pixabay
Sugar is more addictive than Cocaine. Worldwide millions of people are in sugar's ban. The health consequences are enormous. An immense burden to you and the state. Perhaps you would also like to read the following post. There are excellent alternatives to sugar.