A fresh look at your Brain
American Football and Brain Trauma
Brain Trauma is not limited to sports, but it has had the most recent headlines. Anyone knowledgeable about American Football will recognize the name, Junior Seau. Mr. Seau was a 10 times All-Pro Linebacker for the San Diego Chargers. A position that requires a lot of physical contacts which was often head-to-head contact.
Junior Seau died two years after retiring from the NFL from a self-inflicted gunshot wound. His family had heard about chronic traumatic encephalopathy (CTE) and asked doctors to determine if Junior suffered from this condition. The results confirmed the Junior indeed suffered from CTE.
The dangers of boxing
I do not think there is anyone who does not recognize the name of Muhammad Ali. He died from complications of Parkinson's disease, but there are many who question if his condition was exacerbated by his boxing career and CTE.
But you do not need to be in sports to suffer from brain trauma. Riding a bicycle, tripping on a rough piece of sidewalk. Falling down a flight of stairs are things that come to mind but a stroke, addiction can cause brain trauma, and even be present with no history of injury.
In the following video, you see Dr. Amen and Muhammed Ali, the world-famous boxer.
.
Dr. Daniel Amen
Relatively new technology is being used to look at blood flow and brain activity. The observations can show how the brain is impacted by trauma and give the doctor an idea of how to treat the condition.
Children with ADHD have remarkably different activity patterns than a normal child. People with Parkinson's have very different activity patterns and one look at an individual with physical brain trauma will convince you that there is something wrong. Dr. Daniel Amen has been working with this technology and he gives an excellent Technology, Entertainment, and Design (TED) presentation on the process.
For those unfamiliar with TED, it is a nonprofit organization devoted to spreading ideas which initially was based on information about Technology, Entertainment, and Design. In this particular TED TALK, Dr. Amen discusses why he is so excited about the new scanning system. It can prove to be a lifesaver and in fact, has.
A book by Dr. Sears
One of the foremost anti-aging doctors in the US is Dr. Al Sears. He has written extensively on health-related issues, here you can see his book he wrote on brain health.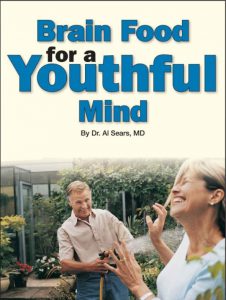 A special method to train your brain
I recently discovered the Raikof Method. Here one learns to use the full potential of one's brain. It is known that we only use some 10% of our brain capacity so how about using much more of the brain capacity available to us? Please have a look.
Conclusion
One can not be careful enough with one's brain. Also, the food we eat has a big effect on brain health.
Before you leave, you might like to look at Recommendations. It is a special page I have made for you. It holds a collection of things you might find interesting.
Source: Dr. Amen
Photo Source: Pixabay