(Last Updated On: August 2, 2021)
Fasting cure and its Benefits for your Health
Why you need an internal cleaning now and then
One has to detoxify now and then with a fasting cure as we are full of additives, toxins, and more of these niceties. Our food has gotten worse over the years. The so-called authorities have informed us these last 50 years or so about what is good or bad for us.
The problem is that the list of the condemned foods or praised foods has varied wildly over the years. First one should not eat eggs as it was causing cholesterol, that nasty stuff which clogs up your arteries. Then we should not eat red meat, terrible for you. Don't eat salt, you might get a heart attack. Stuff yourself with sugar and trans fats. The list of erroneous information goes on and on.
When one now looks back, one sees a common line. The big companies invented new products to be able to satisfy public demand for new tastes. If they were healthy or not was beside the point. Now it is a food jungle out there and as the number of products one can eat only increases, it is getting more difficult by the day to separate the wheat from the chaff.
I personally think going back to nature would be the best option as man-made foods have a long list of unhealthy additives. Just try to read the label.
The following video I think, apart from being funny, is a good example of the confusion on food.

.
Man-made foods are bad for you
As our modern man-made food is laden with toxins, additives, bad sugars, and fats, you might be wondering how to get rid of this. These things will cause trouble in the long run. They cause or contribute to inflammation, which then progresses into something more serious, like leaking gut or cancer.
I believe that fasting on a regular basis helps our bodies get rid of most of these harmful things in our system. Have you considered fasting? Does that mean no food? Yes, it means no food for a certain period of time. How will I survive, you might think? Do not worry, one survives very well, one can live a long time without food but not without water/liquid.
The unusual story about an Indian Hermit
In December 2003, I read an article in the Town Crier, a small newspaper on the Costa del Sol. It does not exist anymore. A 70-year-old Indian Hermit was under observation in a hospital in Ahmedabad. It completely baffled the doctors and experts who were observing him, as during his 10 days in hospital he did not drink or eat and he did not pass urine or stool.
This hermit declared he had not eaten for decades. Mr. Jani said that he had been blessed by a goddess when he was only 8 years old. It puzzled the doctors how this man could reach this age in such an excellent condition.
The above story is of course extreme, but the fact is one can survive a long time without food. Animals, which are sick, often stop eating. They do this by instinct, and we humans would do well to take an example.
I can talk about this as I have experienced fasting periods since the beginning of the nineties. I happened to read a book written by Dr. Lutzner, titled Rejuvenate with fasting. After I had finished reading this interesting book, I thought I should try it at least once.
A very complete guide you should have
In this book, you will hear why fasting is good for you. Dr. Jason Fung, in collaboration with Jimmy Moore, will explain all the whys and hows you might have on fasting. You will get a 7-Day Kick-Start Fasting Plan and a list of healing liquid recipes.
At least try it once. After that, you probably will be convinced that a couple of fasting cures each year can do wonders for your health.
.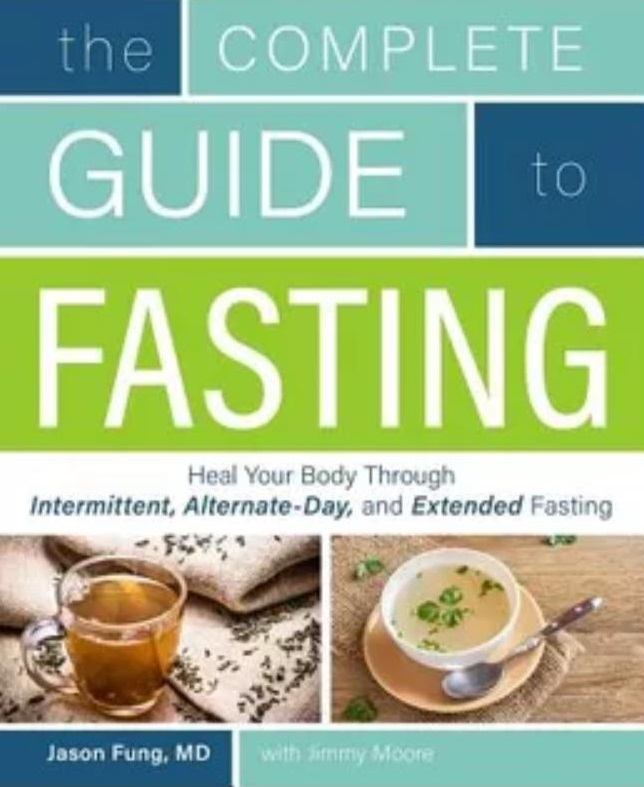 .
What happens when you fast
When one fasts after the first 3 days, one normally has no little hunger pains anymore. It might be you feel a bit weird, but that is due to the toxins circulating in the blood before they leave the body. In case you feel a bit tired, then have a small siesta. I believe one should give in to the body's symptoms, one should really listen.
As you do not use your energy for the digestive process, all this energy is for you to decide how to use it. Years ago I was building a pergola for my Mother while on a fasting cure. I felt great with a lot of energy, even if I was doing quite heavy physical work.
I have also noticed one sleeps so well and the dreams one has kind of intensify with vivid colors. Very nice indeed.
What you can have
So what do I get if I am not allowed to eat, you might ask. I drink a lot of water, some herbal teas, homemade fresh vegetable juice, carrots, celery, beetroot, tomatoes, and an apple for taste. If I have spinach or lettuce in my vegetable garden, I will add some leaves.
In the winter, when it is chilly, I will make a vegetable soup to then drink only the broth. When one is fasting, one feels a bit colder soon, but that problem is easily solved with an extra pullover.
I normally feel very good after a fasting cure, lighter in body and mind. I lose 3 kg and 3 cm on my waist and hips. I think no woman would mind that. I have done up till now 41 fasting cures of 9 days each.
The last one was in Feb. 2017. As I have done it already so often I now tell myself some days in advance, hey, remember? We are going on a fasting cure in a couple of days. It is like switching a program.
Some last thoughts on fasting
One thing is very important. Take it easy when eating again. A couple of small and light things will do for the first day. For sure a big, heavy, and greasy meal could be dangerous and the same applies to tobacco and or alcohol.
It is also the ideal moment to stop smoking. The first cigarette after a fasting cure will taste more than disgusting. The ideal would be to do a cure for the change of season, but if not possible your body will thank you for doing it at least twice a year. You will feel so much better and full of energy.
I have made a special page for you. Before you leave, have a look at Recommendations. I hope you will find something interesting.
Source: My Life
Photo Source Pixabay
You might be interested to read the following post. As the saying goes, you are what you eat.