(Last Updated On: February 21, 2022)
Moms Across America put out a warning, do not eat this Soy Burger
Recently I found out about a group called MOMS ACROSS AMERICA. This group focuses on bringing awareness about health issues to the attention of the nation and the world. I investigated further and my opinion is they are right. I have been writing about many of the same things on my 2 websites.
Receiving heavy flack
Searching the internet, I came across some very heavy opposition to this group. Well, opposition is usually good and normal and I have seen it before. The moment somebody's voice is being heard, other groups with alternative opinions pop up and give their two cents' worth. Just to illustrate my point here is a link of such opposition to Moms Across America.
This appears to be much more than an individual's opinion and more on the order of a corporation attacking a citizens' group. One has to ask, who are these people, and is there someone who is behind these alternative opinions? Moms targets GMOs and chemicals in our food. Yes, they do that and right they are. Is somebody feeling uncomfortable?
Horrible human inventions
In quite a few posts on my 2 websites, I have written about the horrors humans can develop. Humans feel so superior to nature that they always think they can do it better. Time ago, man-made oils and margarine replaced good fats like extra virgin olive oil and coconut oil.
Time ago, people did not have gluten sensitivity as the grains were good grains. They were not sprayed with this abominable product made by Monsanto called Roundup. Personally, I think it is not the gluten as such, it is the quality (or I should better say the lack of it) that makes people sick.
Give your child clean food
I have come across the following video. Mothers all across America are worried about their children. It seems that more and more children have strange ailments you would not have heard much about in the past.
We are what we eat and turning away from nature has not improved our food. The consequence is that our health has not improved either. Why is it that we spend so much on healthcare and it is supposed to be much better than in the past, but people are only getting sicker? Doing a thorough detox and giving your child whole foods often improves the condition tremendously. 
Do not miss this interview with the Moms Across America Founder. Zen Honeycutt talks about Monsanto and its dangers.
The evil influence of the western diet
When people unaccustomed to the Western Diet take it up, significant changes take place. A good example is the Aborigines of Australia. They historically would eat what nature offered them. When they started to eat Western food, their health went into decline. We can say the same about the people of Japan.
The arrival of fast food has not been beneficial to the health of the Japanese people. This is valid worldwide. The moment they introduce Western food, ailments that were unknown before suddenly appear.
Moms Across America has called attention to GMOs, something which did not exist in the past. The fact that most brands are reluctant to declare GMO's on their labels makes one think. If it is so harmless, why do you refuse to put it on your label?
The important role a mother has
A Mother is a family member who is vigilant of the food her loved ones eat. What we put into our mouth is of utmost importance, as it will affect our health. Your good or bad health will also affect your mental and spiritual state as all 3 are related. To be a happy human, and that is our right, we have to take care to keep all 3 in balance.
I have also changed my diet
I have gone through my own food revolution. From soy milk and yogurt to full-fat natural Greek yogurt and Kefir. I now eat mixed nuts and seeds and the produce from my organic farm. I should not forget the eggs of my happy chicken who live a stress-free life.
They cannot live completely free as I have cats, but they have a lot of space, get fresh weeds from the field and live in a chicken palace.
Eating hamburgers have become normal
The culture of eating hamburgers has spread worldwide. It does not happen often, but now and then I will make a homemade burger. At the butcher, I will choose a piece of meat which then goes twice through the minced meat machine, like that I know what I eat.
Now vegans have not been forgotten by those big companies. Alternatives to meat are on the menu at many of the fast-food burger joints. Be informed before you eat one, as the meat-free substitute can be a real health hazard.
Moms Across America has made a staggering discovery, and that is the actual reason why I write this post.
The Impossible Burger, a very appropriate name, do you not think? This burger has tested 11x higher for glyphosate levels than the comparative Beyond Meat Burger. No wonder Moms were shocked by these results.
It is really incredible that this is happening. It is even more incredible that we allow it to happen. I think by now most people know what GMO is, and most people have also heard about Monsanto and their weed killer Roundup. I have written various posts on this for my 2 sites.
Why do we want to eat weedkillers? are we not right in our heads? We probably are not, as being exposed and absorbing these toxins do have a very negative effect on our health. It seems our intelligence is being diminished.
It has turned our Pituitary Gland to stone by an overdose of fluoride. We eat cheese which has plastic in it and we drink water from plastic bottles. There are so many things that are wrong and we think it is normal. People, please wake up.
Do not fall for the word healthy
To think that they market this awful product as being healthy. We do not know and are eating this crap as food. The fact that they presented it at the Natural Products Expo West, I think, is a real scandal.
Eateries like Burger King, White Castle, Hard Rock Cafe, Red Robin, Cheesecake Factory, and hundreds of other restaurants have this man-made atrocity on their menu. Eating this, you are being poisoned on a big scale.
An important book
Is it true that soy is a miracle food and will cure all kinds of diseases? This book is a wake-up call. The soybean industry wants you to believe soy is fantastic, but sadly that is far from true.
Millions of people suffer from unusual weight gain and have no clue that soy could be the culprit. You need to read the labels and search for ingredients. Do not miss the important information which you will find in The Hidden Dangers of Soy.
.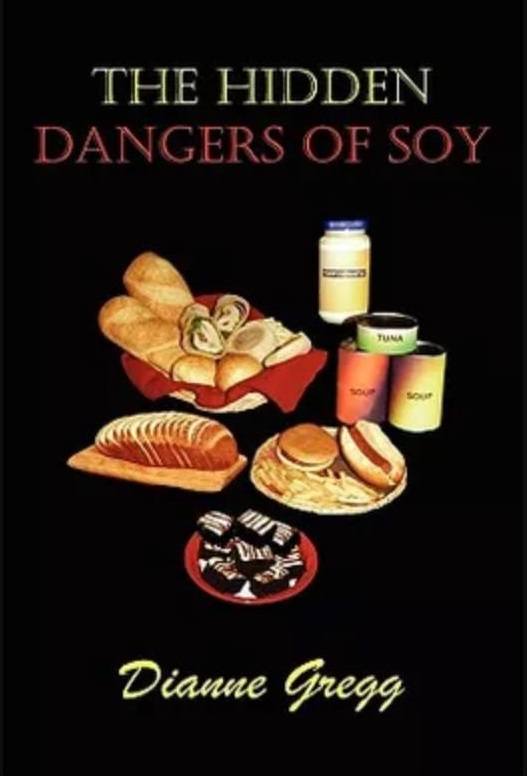 .
Conclusion
We should be grateful that associations like Moms Across America inform the public about this health hazard. Be informed about what you eat. Read labels and if you cannot pronounce it and don't know what it means, leave it standing on the shelf.
Do not fall for the clever setup of advertisement campaigns. Those companies do not have your health in mind, they only want your money. The closer you eat to nature, the better your health will be.
Before you leave, have a look at Recommendations. It is a special page I have made for you. It holds a collection of things you could find interesting.
Source: Moms Across America, May 16, 2019. Article by Zen Honeycutt
Photo Source: Pixabay
My personal experience with Roundup. You might like to read the following post.