(Last Updated On: March 6, 2022)
More positive information on Breast Cancer
I have written about breast cancer before. In our modern world, more and more women suffer from this awful disease. A disease that manifests itself when there has been a dis-balance over a long period of time. Often a dis-balance is caused by inflammation which in turn, most of the time, is manmade.
The foods we eat cannot be called food anymore, as it is stripped of most of its natural nutrients. Substances created in labs have replaced these important nutrients and therefore actually are not good for human consumption. Our eyes and taste buds have been fooled for many years by commercials that tell us to eat this dehumanized food.
When you look at the labels, one does not know the things that are listed and most of the time you cannot even pronounce the words. Personally, I love to eat natural things with a minor sin here and there, but the biggest part of my food intake is healthy.
Antiaging doctors
I have been visiting an antiaging doctor here in the south of Spain since 2009. Online, I am following Doctor Sears, an anti-aging doctor in Florida/USA. His newsletter often gives the latest discovery on medical issues, and in this case, breast cancer.
The dangers of chemotherapy
In old times breast cancer was not seen so often, but in present times, one hears more about it. The normal procedure to detect is to have a mammogram made, but that extra radiation is not good for you. For all women, it will be a dreadful moment when their doctor tells them they have breast cancer.
Depending on what stage the cancer is in when found, it could mean the partial or total removal of one or both breasts.
Besides the worry that the illness will come back after horrible treatments and/or surgery, one must consider the frightening side effects of chemotherapy. The side effects of one drug, in particular, is especially worrying. The side effects of the chemo drug tamoxifen include a higher risk of getting uterus cancer, the potential to block an artery in your lungs, and even the possibility of suffering a stroke.
Then there is the personal angst one has on how will my family react?. How many men will stand by their partners and support them during the rest of their life? Sadly, many marriages break up when he does not find her attractive anymore.
There are better solutions
Nature is our alley and provides a long list of helpful things. I would like to tell you about something easy and known by all, Vitamin D.
A 4-year study from the Creighton University School of Medicine in Omaha, Nebraska documented that women who were given a supplement of Vitamin D had a 30% lower risk of getting breast cancer. It showed how important it is to keep your Vitamin D at an optimal level.
Mainstream medicine ignores the fact that women who have gone through their menopause often have too low levels of this vitamin and therefore run a higher risk.
The importance of sitting in the sun often
Vitamin D is a very important part of your body's natural healthy state. This is not known so much, but your body is a walking photocell. Your body is a veritable factory and capable of making many things, like in this case, making Vitamin D from the sunlight. It is so important to sunbathe every day if possible.
I do not mean like when you are on holiday two weeks a year. People go to the beach and burn themselves brown, causing damage to the skin. Also, the fact that the use of sunscreen is not beneficial (it contains heavy metals and other niceties which are harmful.) The sunbathing I am talking about is the 15 minutes each day on the face, arms, and legs and if possible more body parts.
In nature, the plants use the sunlight to photosynthesize chlorophyll to survive, like that they grow and thrive. It is similar in our body, where we transform it into Cholecalciferol, D3. Vitamin D3 is important for all our organs and organ systems in our bodies.
You will find a lot of information in this book
The book Foods to fight Cancer has been sold over 700.000 copies. Written by well-known experts, Richard Beliveau, Ph.D., and Dr. Denis Gingras will show you how to eat well and reduce the risk. The World Cancer Research Fund states that this book is a vital read that details serious dietary and lifestyle changes for the good of your health.
.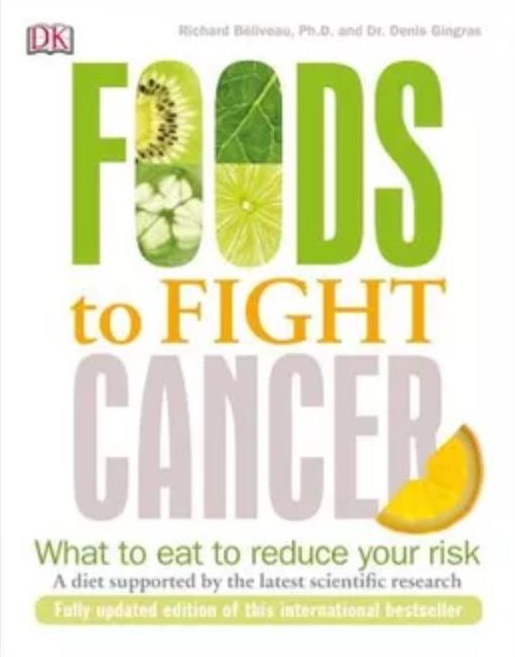 .
You need more Vitamin D
Having an adequate level of Vitamin D3 in our system helps prevent malfunctions and diseases, even breast cancer. Vitamin D3 inhibits the formation of new blood vessels which feed tumors, like that you starve them and it also regulates the response our immune system has to a cancer attack.
To prevent cancer it seems one needs between 4000 and 8000 IUs and in case one has cancer already one should have an intake of at least 10,000 IUs.
If you sit in the sun for 30 minutes a day your body will produce up to 50,000 IUs over a period of 24 hours, but please remember not to use any sun blocker.
Excellent sources of Vitamin D
You can also add Vitamin D to your food. Some excellent sources are cod liver, wild-caught fish, like salmon and tuna. You can also get Vitamin D by eating fish like herring, sardines, and anchovies. Organic eggs and cheese are also good options. There you see, one can do a lot of things to improve one's health and make one strong to avoid or even battle cancer.
Conclusion
There are many things you can do to avoid cancer. One of them is to be conscious of what you put into your mouth. Your food is of utmost importance. I would like you to listen to William Li and what he says in this Ted Talk.
You are what you eat and also what you think. Healthy food and good thoughts will keep you in balance.
You might care to have a look at Recommendations. This is a special page that I have made for you. It holds a collection of things you could find interesting. Please have a look.
Source: Dr. Sears
Photo Source: Pixabay
If you would like to read my first post on breast cancer, please click here.