(Last Updated On: August 2, 2021)
Rome, a work of art in chocolate
Natural ingredients
To see the city of Rome made of Chocolate you might think this does not fit a health site. My excuse for writing this post is that besides it being a nice Christmas tradition, it is also about natural ingredients. If you do not eat too much of these Christmas sweets at least you know what you eat is "healthy"
Christmas sweets from Spain
There are many Christmas traditions, some are old as the ones from my childhood. Family traditions during the holidays that came from my grandmother, then repeated by my Mother and now by me.
This is not one of those traditions, but one gained during the years I have lived in the south of Spain. Every year, about 1 month before Christmas, we have to make an enjoyable day trip to buy the typical Christmas sweets. They are absolutely delicious, not recommended if you are on a diet.
They mainly made these sweets with honest and natural ingredients, and that is a good excuse for eating them. In old times the nuns in the many convents in Spain would make their famous sweets, with each convent having its secret recipes. You can still buy sweets made by nuns, but there is one place in Spain everybody knows about. The fame of the sweets of Estepa goes beyond the national borders.
Estepa and its history
Estepa is a small village in the province of Seville. It is famous for its polvorones and mantecados. These are traditional sweets like crumble pie and made with pork fat. They add different natural aromas like anis or lemon, and also cinnamon.
Over the years, they invented more types of sweets. Think of chocolate balls with coconut or an indescribable spongy something with marzipan. I can tell you they are very difficult to resist.
But this village has also a sad past. There was a horrific mass suicide some 2200 years ago. In 208BC, when the Roman invaders arrived, they found the entire village burned, and the inhabitants had committed suicide, choosing death over living under Roman rule.
There is an Archaeological Museum where one can see the past of Estepa. The earliest local finds date back to the Paleolithic period. One can also see religious artifacts from the following periods of Roman, Visigothic, and Arab cultures.
24 factories
The village has some 13000 inhabitants and during the pre-Christmas period around 2000 people are working in the factories in town. There are 24 factories that produce nearly  20 million kilograms of Christmas sweets. 90% of the workers are women and they start production in September, continuing until Christmas.
You will see these sweets in supermarkets, shops and even at the petrol station where you are invited to take some.
What happens with the chocolate afterward?
Two placards at the entrance to the chocolate diorama describe some interesting facts about the display. The placard to the right translates as temperature and humidity are controlled. After Christmas, they will donate this chocolate to a food bank. This action forms part of the social work of La Estepena.
Real ingredients
The list of ingredients needed to create the city of Rome in Chocolate.
1.350 kg of White Chocolate
750 kg of Black Chocolate
120 kg Sugar
50 kg Almonds
35 kg Coconut
23 kg Walnuts
15 kg Marzipan
2.700 Hours of sweet Work
We left the Costa del Sol at 10.30 and were on our way to Estepa. We like to make this trip every year as it is a pleasant drive and holds a surprise which we discover on arriving at the factory La Estepena. Every year they make a famous town from Chocolate. This year it was the city of Rome.
Constant temperature is important
The room where the city of Rome is situated is being kept at a constant temperature. They allow you to take photos, which of course we did. It looked lovely. They made many world-famous buildings and monuments of chocolate, white and dark chocolate. We took many photos.
A view into past times
The museum is also nice. There you can see the beginning times, 1858, where the entire process of making sweets was manual. It represents certain scenes of elaboration in this interesting museum. In those early days, they took on young people to teach them the tricks of the trade.
An informative film
We then continued to see a very good 3D film with a lot of interesting information. The ingredients used are absolutely the best. Almonds, walnuts, honey, chocolate, and more. They harvest almonds in the region and the chocolate is of premium quality and comes from the Ivory Coast.
The interesting sight of the production floor
Following this, we took a tour of the factory. We were walking on an elevated platform going around the huge production floor. Down below, the sweets were being made (sorry, but they allowed no photos.)
One could observe the different basic pastries being made, put into form, and then disappearing in huge ovens. Coming out the other side, it entered cooling down rooms. After cooling, they continued to be given their various coatings and toppings and finally wrapped into boxes.
A lot of this work is still manual. At this factory, there are 2 working shifts of 8 hours with 140 people on each shift. The wages are around 1000 Euros not taking into account any extra hours (overtime.) Then came the section where the chocolates were made. Lovely smells of coconut, chocolate, etc entered one's nose.
Temptation, buying sweets
The last visit was to the shop. There you take a plastic bag and scoop and start filling up. There are different price sections, so one should not mix them. This year we got away with one and a half kg of sweets. That is more than enough for 2 people.
On the way home, we had a nice little lunch in a small town and arrived home, tired but happy, at around 18.00. I put the sweets in a cupboard, let's see how long they last. From experience, I know that once you start eating the lovely sweets from Estepa, it is near impossible to stop.
A yummy book
When Christmas time comes, we are looking forward to some special food. But in our rather monochrome " Westernized" gastronomy, there are not too many surprises. Happily, in Spain, this happens a lot less. The country can boast a huge number of Michelin stars. Spaniards like to eat wonderful food.
The many centuries of cultural influences from Romans, Arabs, Jews, and Christians contribute to a big variety of dishes that are still cooked today. Christmas is a culinary delight you do not want to miss. This book will help you surprise your loved ones with some outstanding recipes.
.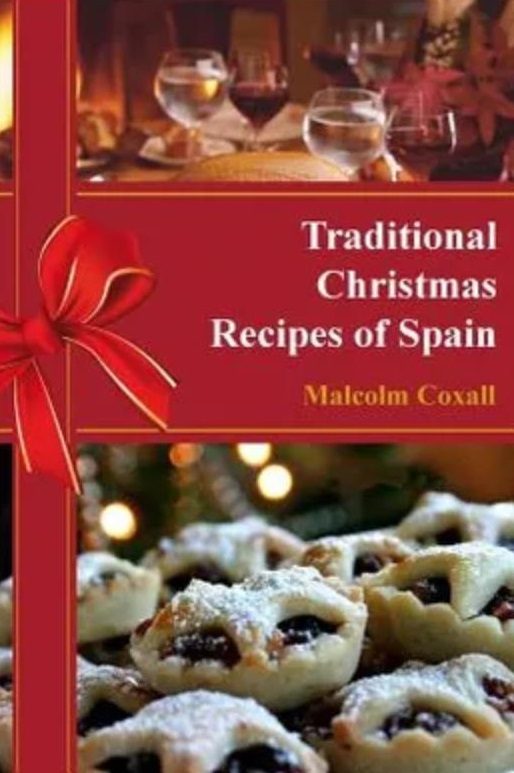 .
Conclusion
I am looking forward to our yearly trip to Estepa. I am curious to see what city they have chosen this year. For sure we will take photos again and return home with two enormous bags of Christmas sweets.
I have made a special page for you with a collection of things you might find interesting. Have a look at Recommendations.
Source: My Life
Photo Source: Private
Spain has many special places. One of them is the oldest restaurant in the world. You will find it in Madrid and at least once in your life, you should eat there. In 2020 they forced it to close because of Covid-19, the first time in its history. You might like to read the following post.