(Last Updated On: August 2, 2021)
We can link poor Oral Health to various diseases
The connection between your health and your teeth.
People, in general, do not connect their overall health to their oral health. There is a definite connection between how "clean" your mouth is to how you feel in general. One hears more than often the phrase; quit smoking or do not eat so much junk food and also the phrase; more exercise would do you good. You do not often hear have your teeth checked to regain your health, very few doctors will tell you this.
Millions of people have some form of gum disease, from the lesser Gingivitis to the more severe and serious Periodontitis. Gingivitis is an inflammation of the gums and can be painful. Your breath smells bad, your gums bleed when you brush your teeth.
Any inflammation in the body is a signal that something is not ok. Not paying attention to it and letting it continue will eventually develop into Periodontitis which affects your jawbone and then your teeth will fall out. The plaque on your teeth, which is formed by the starches and sugars in your food, is loaded with bad bacteria and this sticky film covers your teeth.
A book to get more in-depth information
I am not a hero, and I dislike going to the dentist. When I read words like root planning, flap surgery, gum grafts I get the creeps. Now I must say there is a very nice and good female dentist here in the village, so that is a blessing.
The book of Ramiel Nagel tells us that dental health in America is not the best. Take into consideration that 23% of adults over sixty-five have lost all their teeth. We can prevent this by taking better care from an early age onward. A holistic approach would be the best. Know what to eat to keep your gums happy and healthy. Doing that, you have a big chance to keep your own teeth until you are ancient.
.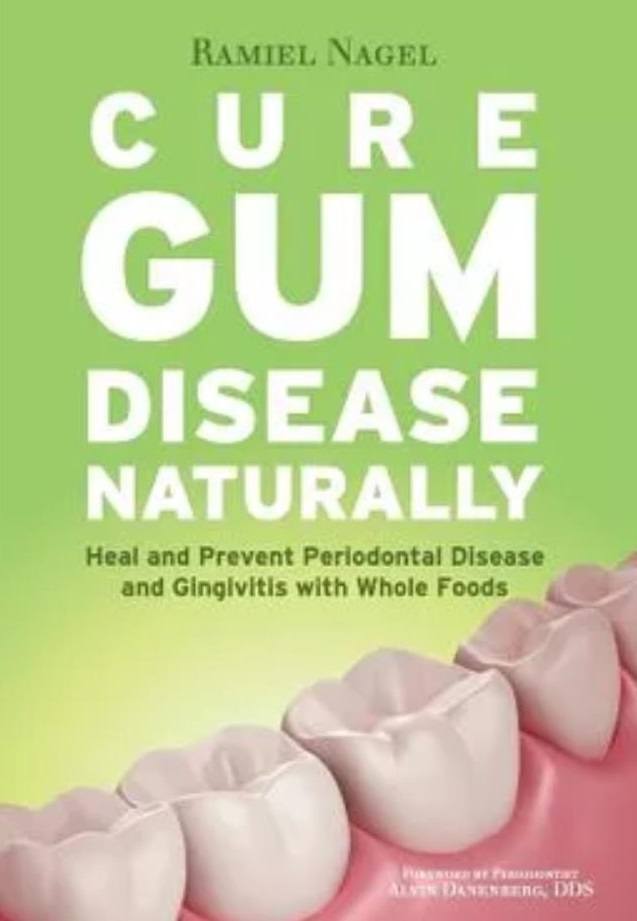 .
Poor oral hygiene, not brushing your teeth after each meal, will cause this plaque to build up and then eventually hardens into becoming tartar. When it is so bad, brushing your teeth does not help anymore and you will need to make an appointment with a qualified dental hygienist to have it removed.
I know by experience that the yearly visit to have my teeth cleaned can be painful. Still, it is better to do it once a year and get out rather quickly than sit there for over an hour.
---
The relation between various ailments and rotten teeth.
Recent studies have shown that having a bad mouth is related to obesity, heart disease, and stroke. The inflammatory cytokines that come together with Periodontitis might contribute to obesity. It raises the level of C-reactive protein.
This causes fat cells to accumulate more fat while burning less energy. In a 2016 study, they found that obesity was more likely with people who practiced less oral health.
Then, in another study, it was proven that the participants in this study who had Periodontitis had a higher risk of stroke, also the risk of dying from heart disease. The sooner the better, reduce the inflammation in your mouth and the risk of suffering the aforementioned illnesses can be highly reduced.
Cancer also seems to be related to poor oral health. Researchers found in a study of 48.000 male health professionals aged 40 to 75, that people with a history of Periodontal disease had an increased risk for lung, kidney, and pancreas cancer. Researchers at Harvard Medical School published this study in "The Lancet Oncology".
People who have been diagnosed with diabetes should take special care of their oral health.
They have linked periodontal disease with the increased risk of poor blood sugar control.
Having a healthy mouth can prevent the complications, and consequences associated with diabetes.
Especially in older people, poor oral health can mean the start of respiratory infections, including Pneumonia. Researchers believe this may be due to the bacteria in the mouth's secretion and pharynx, which then end up in the lungs.
Some tips on what you can do yourself
There are quite a lot of things you can do in your home to prevent Gingivitis and Periodontitis.
Brush your teeth with Aloe Vera toothpaste. When you have swollen gums apply a little of the Aloe gel to the spot.
In my bathroom, I have a glass of water and a teaspoon of Himalayan salt. After brushing my teeth, I take a sip and keep it in my mouth for some minutes.
In the morning when I get up, I use the Ayurveda method of oil pulling. You can use extra virgin olive oil or coconut oil. I take a small spoonful and keep it in my mouth for at least 10 minutes up to 20 minutes. Do not swallow! After spitting it out, rinse with water.
A glass of water with Arcilla = clay, keep it in your mouth for some 10 minutes, it will absorb the infection.
When you buy mouth water, it should be the herbal type one, often the "normal" ones have ingredients that kill the good bacteria you have in your mouth.
Conclusion
It really pays to take care of your teeth from a young age onwards. Like that, you will avoid pain, illnesses and do not forget the aesthetic part as with your own teeth you will look your best. Do not go to bed not having brushed your teeth, something parents should teach their young children.
Before you leave, have a look at Recommendations. This is a page I especially made for you. A collection of things I like and find interesting. I hope you will also find something of your interest.
Source: NaturalHealth365
Photo Source: Pixabay
Have you ever done a fasting cure? It is less difficult than you might think. Over the years I have done it multiple times. You might be interested to read the following post.