(Last Updated On: August 3, 2021)
Kombucha, one of the healthiest drinks in the world?
Before we dive into some of its health aspects, I would like to tell you a bit about its long history.
Kombucha has been used for more than 2000 years
Kombucha seems to have originated in Manchuria, around 220 BC. One of the stories tells that a Korean medicine man named Kom-bu prescribed the tea to heal the Japanese Emperor's disorders. This happened in the year 414. The tea came from China, via Korea to Japan, and there it got its name "Tsche of Kombu".
This tea eventually reached Europe via Mongolia and Russia. When World War I started, kombucha slowly but surely disappeared as there was a shortage of sugar. In the 1920s there was a comeback of the kombucha fungus, and researchers showed interest. Then came World War II, and all investigation stopped.
The real come back was in the 1960s. People heard reports from Kargasok, Russia, where people seemed to reach a great age. The most famous research comes from the University of Omsk in Russia. Here in the west, Dr. Sklenar is often mentioned in the German press.
U.S. President Ronald Reagan was suffering from cancer. While reading the autobiography of the Nobel Prize author Aleksandr Solzhenitsyn, they informed him that the writer fully recovered from cancer in a Tashkent cancer ward in 1953. President Reagan got a culture from Japan and drank 1 liter of Kombucha a day. This stopped his cancer from spreading, and he could finish his term in office.
In 2016 this book got the Silver Nautilus Book Award
It is easy to make your own Kombucha, as the key thing is to get a healthy Scoby. It will reveal all the tricks and tips in this book. A must have I can tell you.
Have you heard about Kombucha? if not, I recommend you to read this post as it will be important for your health.
What is Kombucha
Kombucha is a fermented tea and has become very popular lately. You will find it in most supermarkets and convenience store worldwide. In 2017, kombucha sales in the U.S reached more than $500 million and the food Industry thinks that by the year 2020, sales will reach the $2 billion.
You might ask what does Kombucha taste like: Did you ever drink a glass of sparkling cider? Well, kombucha tastes very similar. It has a light vinegary flavor; it is a little sweet and at the same time sour. Ideal for when the temperature is high outside, as it is very refreshing. Some people will opt for adding herbs, spices, and fruit purees. Personally, I prefer the traditional taste.
The health benefits of Kombucha
Many good things are attributed to drinking this tea. There are proven benefits in fighting cancer, it will burn fat, improve bone strength, and it seems to protect against cardiovascular disease. There are lots of antioxidants, but sadly there are no published studies on the biological effects kombucha might have on humans.
There are a lot of studies which suggest that it could have a detoxifying together with an antimicrobial effect. It might be helpful to prevent disease and battle type 2 diabetes.
Sugar is used to make this tea and is still present after 7 days of fermenting. We all know that too much sugar is bad, so stay away from store bought as often they add extra sugar, ending up having as much sugar, like 14 grams, as in a can of coke.
Negative effects for some people
Many people worldwide have tasted this drink at least once. The longer you keep fermenting it the more acids it will produce. This might not be ideal for people who have a weak immune system and people who are HIV positive. Some people can feel dizzy and perhaps have some allergic reaction and a headache.
In total, the side effects are few, and very few people suffer them. Pregnant or breastfeeding women should first read this article, so you are well informed if you can drink Kombucha or not. Let us not forget that all man-made medicines normally have a long list of side effects and people are still being prescribed these pills.
.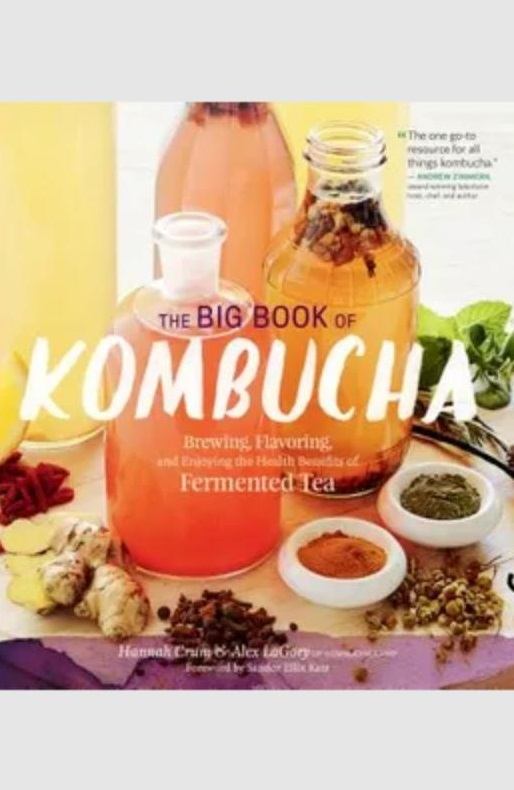 .
How to make Kombucha
It is not difficult, but you need some space where the pot can stay undisturbed. As it ferments you will smell it, so chose the place carefully to prevent anyone from disturbing the fermenting container. I have it standing on a windowsill in the kitchen.
You will need a glass container which is big enough to allow the Kombucha to grow. I chose a big glass salad bowl. You will need to make tea, take black, green, or white tea. I have always used black tea. Take care to use loose tea and organic. After making the tea, you add a certain amount of white sugar and let the tea cool off.
You will pour the tea in the glass bowl and add a SCOBY (this is a thick jelly-like disk which grows as big as there is space available. It is a symbiotic culture of bacteria and yeast) or "mother " and leaving a little headspace. Cover it with a clean, thin cloth and put a string around the bowl.
You leave it standing between 3 to 30 days (I would leave it standing for 14 days.) The tea will ferment and the Scoby will multiply, making a baby on top. When all is ready, you can separate the mother from the baby and continue with 2 bowls. You pass the liquid through a sieve into a bottle which you keep in the fridge. Drink at least 1 glass a day.
Kombucha has been used with animals. A trial with sheep and calves was successful in 100% of the cases when Kombucha drops were given in case of diarrhea. With healthy animals, it also had a positive effect. A growth increase of 15% was noted.
Conclusion
If you want to drink Kombucha, make it yourself. You need a glass bowl and a stainless steel pot for cooking the tea. Everything has to be really clean. The mother has to be healthy, no black spots or mold otherwise it could harm your health. The temperature has to be constant to get excellent results. Drinking this tea is a lot more healthy than buying canned juices or soda pops.
I have made a special page for you. It holds a collection of things that might be of your interest. Please have a look at Recommendations.
Source: Ocean Robbins, Food Revolution Network, November 14, 2018, and Harald Tietze, author of the book Kombucha, The miracle Fungus.
Photo Source: Pixabay
Nature offers many good things for our health. Perhaps you like to read also the following post.