(Last Updated On: August 3, 2021)
Plastic, plastic, plastic everywhere. What are we doing to our environment?
It seems to be a fashion wanting to wrap everything in plastic. The food industry is very good at it. They might present even a single onion to you in a supermarket wrapped up in plastic. When one thinks about it, this is far from logical, as most fruits and vegetables are already dressed in their own peel. The peel forms a protective barrier against heat or cold, keeps the dirt and damp out.
Why is it that humans often have the urge to improve on nature when nature has its products designed the best way? Think of it, the peel is biodegradable and most of the time you will peel the fruit before consuming it, right?. If you are so lucky to have a vegetable garden, you can use the peel for composting.
Some data that makes one think
Over 2 million tons of plastic are generated in Spain every year. That is only one medium-sized country, counting the population density in the world. Of this plastic 34% is recycled, 17% is burned for energy, and the leftover 49% ends up somewhere in a landfill.
Half of the total amount of plastic lands on a landfill? Have you ever thought about what the consequences are for doing this over many years? It takes 500 years for a water bottle to be completely decomposed.
In the past, it was not unusual to find that a subdivision developer bulldozed a landfill and built on top of that land. I know of a place on the Costa del Sol where this happened. You can not see it, but inside the landfill, things are happening. This mixture of wastes emit toxic fumes and entire areas were affected.
The people and pets living there were reacting and getting sick at an unusually high rate. Different forms of cancer would pop up and people started saying it is unhealthy to live there.
Do not miss this eye-opening video on the Great Pacific Garbage Patch.
.
A staggering amount of plastic in the oceans
The fact that we dump 12 million tons of plastic into the sea every year is a staggering figure. This poses a severe threat to sea mammals and birds alike. They can not distinguish plastic from authentic food and eat plastic items like bags, toys, wrappings, lids, and similar pieces, filling their digestive systems with indigestible plastic and literally starving or choking.
What you can do on a personal level
Coming back to the supermarkets where overuse of wrapping can be observed for fruits and vegetables, it would be good if we could all rethink a bit. Take your own bags from home, like cloth bags or nets. You can also go to the weekly market where the vegetables and fruits are presented in boxes and you decide how much you want of this.
I still have memories from my childhood when I accompanied my Mother to the weekly market in Holland. I am talking about the 1950s. She would shop having a basket on her arm, and often the goods were wrapped in the newspaper of the previous day.
When consumers ask for a change. See this video about Tesco.
.
A new kind of supermarket
In Amsterdam, Holland, a new type of supermarket has recently opened its doors. It is called Ekoplaza. This is a supermarket where glass, metal, cartons, and biodegradable plastic are used for wrapping fresh foods. At first sight, it seems a brilliant idea but having a closer look; it is far from perfect.
The so-called biodegradable plastics used in this supermarket chain still poses a danger to the environment. To meet the rules for being considered "biodegradable", the material only needs to contain 20% of the new "real biodegradable" plastic. The remaining 80% being the same old dangerous type of plastic.
The best is to do your shopping with your own bags or baskets and not buy any plastic-wrapped foods. Especially not those vegetables and fruits which were designed as having their own wrapping in form of a peel.
A good campaign starts in Spain
In Spain, the already well-known campaign " Desnuda la Fruta " which means Undress the fruit is taking off. Locally people are getting more conscious of this plastic problem. Two British citizens have started a waste reduction campaign known as Ecopassion, which is getting good press.
These people have had conversations with the local water board (Acosol) and with Urbaser, a recycling plant for the Costa del Sol West. They wanted to find out the actual situation for recycling and see for themselves that not everything lands in a landfill.
These 2 people have moved around and can already boast some small but important victories. 5 Local bars that would serve their drinks with plastic straws have switched over to ones made of paper. Plastic straws are one of the many dangerous plastic items that can harm animals in the sea.
Some ideas
Here comes a short list with some ideas if you also would like to contribute to a cleaner planet. A planet with less harmful plastic.
Stop buying water in a bottle. In some areas, you might not like the taste of tap water, but then you always have the option to buy a water filter. If you really must have bottled water, you can find water bottled in glass.
Go shopping, taking your own bags along. The supermarket will sell a very well-made and durable, reusable plastic bag for you to put your groceries in. The next week you go shopping with the same old bag. Doing that you greatly reduce the need for unwanted plastic. Our bags have lasted for many years.
Do not buy fruits and vegetables that have plastic wrapping. Go shopping in places where they use waxed paper for wrapping up your meat and cheese.
Buy your detergent in carton boxes and forget about the liquid soap in a plastic bottle.
If you use soap bars instead of bottles, it also helps towards a nearly plastic-free bathroom.
This is a really helpful book
They say that by 2050 there could be more plastic in the ocean than fish by weight. Do you want to be that person who contributes to that? Or do you want to try to do something positive to mitigate this outcome? We need to fight, and really hard, to overcome set ideas. Perhaps give up some habits that even when seemingly comfortable harm the environment.
Reading this book, you will understand that your effort, however small, will make a difference.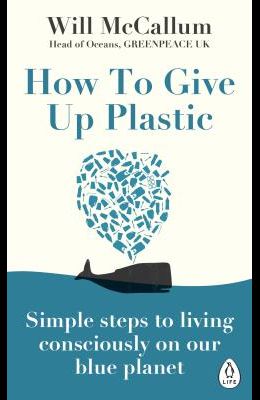 .
Conclusion
These are just a few tips to introduce into your daily life. If you keep the 3 R's in mind, reduce, reuse, and recycle. By doing this, you will help so that our planet does not get suffocated by the plastic plague.
Update. It is July 2021, and the following has happened. In midst of all the misery, this is wonderful news. The European Parliament made an excellent decision. It approved the directive that will ban-single -use cutlery, plates, and balloon sticks starting from July this year.
All those objects that you use once, perhaps only for a few minutes, but which pollute the environment for centuries. Remember those plastic straws you would get with your drink? A danger for marine life. All this will be a thing of the past.
I came across this disturbing video recently. I recommend you to watch it. If we do not clean up our act, it will be too late.
I have made a special page for you with a collection of things you might find interesting. Before you leave, have a look at Recommendations.
Source: Newspaper Sur, July 13th, 2018. Article by Ines Gallastegui
Photos: Pixabay
Perhaps you like to read my other story on plastic. This plastic is in your food.